Organised by the Hardskool Group, the Hip-Hop/Breakin Jam Hardskool night.
HARDSKOOL
TUESDAY, 4th FEBRUARY
LOUGHBOROUGH UNI vs WARWICK UNI
FREE ENTRY
9pm TILL THE MUSIC STOPS
DJ's ON STAGE
MAIN AUDITORIUM BAR OPEN

We want everybody and all your friends who got some love for hip-hop R&B and Break Beats to be there! Look out for event posters around campus and announcements in Label Magazine and on the Uni Radio Station. We have the venue and the potential to make this the BEST regular breakdance night in the Midlands so lets make February 4th a night to remember!
Breakdance Crews and anyone from around the UK is wellcome to come down to this event, if you need further assistance contact us on LSUbreakdance@hotmail.com. Busses and Trains are available as well as travel by car, easy access from M1 to Loughborough. There is also a range of attractive hotels to stay over.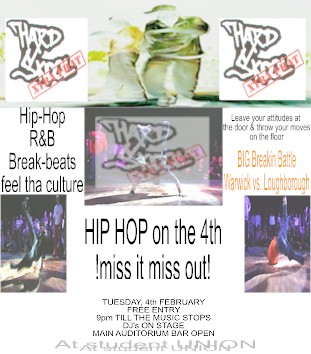 Copyright © 2000 [The Hardschool Group]. All rights reserved.