International BOTY 2002, 26th October 2002, Braunschweig - Germany
<![if !supportEmptyParas]> <![endif]>
<![if !vml]> <![endif]><![if !supportEmptyParas]> <![endif]>
First Place
This year Korea managed to win against France in a very thrilling battle. Koreans impressed with a lot of power, style and air-freezes.
<![if !supportEmptyParas]> <![endif]>
Vagabonds (France) however didnít put any shame on France, the crew was in top-form, their performance was extraordinary and they gave their best.
However the jury decided how they decided and thatís a holy decision and it is to be respected.
<![if !supportEmptyParas]> <![endif]>
<![if !vml]> <![endif]><![if !supportEmptyParas]> <![endif]>
Third Place
The battle for the third place was given to Deep-Trip (Switzerland) and Top9 (Russia).
Top9 has lost to Deep-Trip, however there is a big debate about Deep-Tripís performance. Most people think that the 3rd place should have been given to Top9 (they really did well), and even more, there have been opinions that Deep-Trip should not have got into the battles at all.
<![if !supportEmptyParas]> <![endif]>
<![if !vml]> <![endif]><![if !supportEmptyParas]> <![endif]>
Other shows
There were many groups that had more impressive and much more original shows. Just to mention a few shortly:
Addictos (Spain), one of the best shows and they should have had come into battles, everybody knows Addictos are practically unbeatable at Battles and Lets hope they will finally come through next year. They showed nice power, wonderful style, innovative footwork & freezes.

Killa Beez (Germany), these guys were sick, a wonderful performance and probably one of the best, they however didnít had luck on their side. One crew-member (Mauro) had a serious injury during their main show. The crew demanded to be cancelled from the competition because of these problems. This is pity for Germany as they really managed to put together some of their best breakers in Killa Beez. Perhaps next year, we wish them luck.

Freestyle Phanatix from Denmark had also a nice performance with a mix of different elements. Worth mentioning as they could have managed to come further, they just needed little more advance power.

Ichigeki (Japan), everyone know that Japan and Korea how some of the maddest Breakdancing. Their show didnít really took of at the beginning however roughly from the middle it started to get some real momentum and being very impressive. Would their whole show have been that good, they would have definitely come for the 3rd place battle.

Quassit X-Boyz (Slovakia), this is the second time the crew made it through the eastern-europe qualifications and their show proofed clearly that Slovakia (ex-Czechoslovakia) has also some dope breakdancers. Respect!

Vagabonds (France), they have proudly received the best-show price. There is no0 doubt their show had everything in it 2 be successful well done.

Top9 (Russia), few people argue that Top9 should have won the best show. It is too late now to start arguing about this, but Top9 had truly a very well choreographed and extremely original show.

Expression (Korea), Korea could have easily taken both 1st place & best show prizes. Their show was perfect, if you havenít seen it yet, you have to watch it, otherwise u miss out on some extraordinary Breakdance.
We hope this article was informative to you and we will keep you up to date on video releases and simillar
<![if !supportEmptyParas]> <![endif]>
<![if !vml]> <![endif]><![if !supportEmptyParas]> <![endif]>
What about UK
Well finally where was UK??? Seems like there is no crew ready for a competition of the level of BOTY. Who knows, breakdancing is growing exponentially in the UK and we all hope that next year there will be someone good enough 2 represent.
<![if !supportEmptyParas]> <![endif]>
New developments in the dance & World Break-dance based on Battle of the year 2002
<![if !supportEmptyParas]> <![endif]>
<![if !vml]> <![endif]><![if !supportEmptyParas]> <![endif]>
Power moves
This year we have seen some very interesting developments in the power-moves part of breakin.
1.This year not that just each single Breakdancer at BOTY can do Air-flares but this year, variations of Air-flares have been brought to BOTY.
Watch out for one guy from Vagabonds who does very interesting Air-flares, they donít look like you would be flying through the air as with traditional Air-flares but they seem to give a hopping impression. He practically switches between his hands instead of jumping. This is a very interesting new development in power-moves, which shows that even Ďwell-defined-movesí like Air-flares can be done with different style, and that there are no boundaries to how a move has to look like, you are free to invent anything you like.
2.One member of Killa Beez and many others throughout the BOTY competition have showed and brought in some very smooth and quick transitions between individual powermoves. The breakdancers do a powermove and quickly swap into another and back again into the original powermove. This is done so extremely smoothly that it gives the impression as if it would be just one sole powermove instead of two linked together. This is therefore another new and very nice evolvement since 2000 and 2001.
<![if !supportEmptyParas]> <![endif]>
Freezes
These have been brought onto a much higher level than they used to be in 2000 (2001 had already some quite cool freezes). This is mainly concerning air-freezes.
<![if !supportLists]>∑ <![endif]>The Koreans have shown some extremely advanced freezes. The freezes in general are more based on power and the breakdancer at 2days BOTY is able to freez practically in any possible position. In general it could be sayed that BOTY 2002 has shown some of the maddest freezes ever and people like Expression Crew or Ichigeki, Freestyle Phanatix and many more have proven to us that one can take freezes onto a very high level.
<![if !supportEmptyParas]> <![endif]>
Style and Footwork
Style and Footwork have also been very impressive at this years BOTY, many new ideas have been shown and a lot of originality with most breakers.
<![if !supportEmptyParas]> <![endif]>
Here a list of improvements would be infinite and therefore we will leave out a very detailed discussion. However you can contact us with any questions by clicking here.
<![if !vml]>

<![endif]>
<![if !supportEmptyParas]> <![endif]>
There was a chance to see some BOTY footage on german TV, don't miss: Viva TV Germany broadcasted full hour report about BOTY 2002 the 17th of November and the 21st of November with interviews with the crews and snipperts from the Battles.
The 2002 BOTY video is finally out, you can order it through backspin mailorder.
phone: + 49 (0) 40 229 298 31
email: mailorder@backspin.de
online shop: www.backspin.de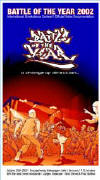 More stuff coming soonÖ
<![if !supportEmptyParas]> <![endif]>
<![if !supportEmptyParas]> <![endif]>
<![if !supportEmptyParas]> <![endif]>
<![if !supportEmptyParas]> <![endif]>